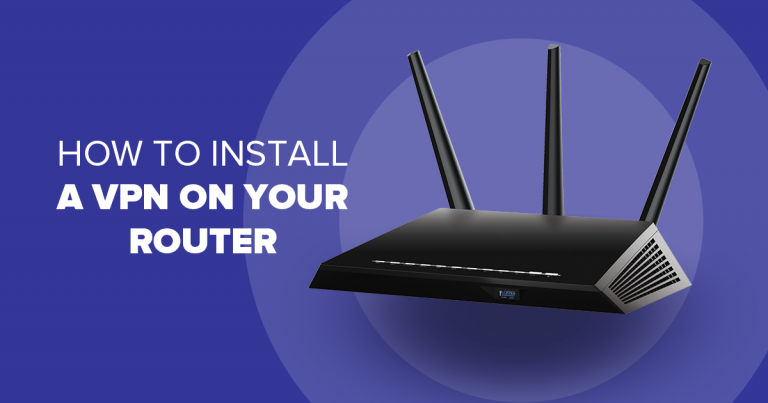 VPN Routers: What They Are & How To Install One (In Record Time)
Setting up your router with a VPN isn't as complicated as you think. If you want hassle-free protection for an entire network of connected devices, it's absolutely worth the effort.
Whether it's your home, office, or business, a VPN router can bring the many benefits of a VPN connection to as many users as you want.
From strong, secure encryption and easy Netflix unblocking to accessing great regional deals and even improving your internet speeds, the potential is endless – and the best part is you can share these benefits easily.
If you're already using a VPN service, you probably know you can already do all of the above via smooth apps and clients. So what's the actual appeal of VPN routers, and why should you go through the effort of setting one up?
You'll find the answers to these important questions, as well as many others, in this guide. Stay with us, because we also have a couple of great VPN suggestions that offer easy router setups!
Why You (May) Need a VPN Router
Before we start, let's make one thing clear: the end goal of a VPN router is exactly the same as when you launch your desktop or mobile VPN app. The one major difference is scale.
What do we mean by that? Well, if you're already using a premium VPN (like ExpressVPN or IPVanish) you likely know how easy it is to encrypt your connection and stay safe on the internet. But that only goes as far as the number of allowed connections by your provider, and only for your own devices.
Limits are limits. VPN routers, however, offer a workaround to this potential problem. There are also other unique advantages to getting your VPN protection "straight from the source".
Here's a list of what VPN routers can do for you:
Provide unlimited connections.
When connecting to VPN servers via your router, you can use as many devices as you like. You can also share the encrypted connection with friends and guests without having to worry about account sharing (which is almost always forbidden under VPN services' terms of service).
Allow for better platform flexibility.
Do you have a Smart TV? Or maybe a streaming console like Apple TV, Amazon Fire TV, or Chromecast? Sadly, such devices don't have native VPN support.
The good news is you can still add them to the list of protected devices by connecting them to a VPN router. While some leading providers offer specific services for these platforms (like ExpressVPN and its MediaStreamer DNS), VPN routers are the better option if you want encryption as well as global access to your favorite shows.
Only one login required – forever.
Many people often forget to log into their VPN or set their clients to run automatically on startup.
After you set up a VPN router, you don't have to worry about any of that – you simply need to provide your login credentials once, and you're all set for as long as you want! If you always use a VPN on multiple devices, this is both a practical and efficient solution.
Make the VPN connection available 24/7.
If you have a favorite VPN server that you're constantly using, you can stay connected to it all the time (provided your router is turned on). Although this is easily achieved with auto-connect features on VPN clients, VPN routers offer an even easier way, along with the other benefits highlighted above.
With that said, there are also some drawbacks to VPN routers you should know about:
VPN routers are (generally) expensive.
In most cases, a VPN router is no small investment. You need the right features and specifications to run VPN software on a router, and that often means baseline devices won't be able to do the job.
There are ways to spend less or save yourself some trouble – such as upgrading your router with advanced firmware (IF it's suitable) or purchasing a VPN-compatible router if you're in already in need of a new one. More on that shortly.
More connected devices may result in performance drops.
Server load is very important to your VPN's performance. If you pick your servers carefully, this shouldn't be a big issue – but keep in mind that the more connections you have up, the bigger the chance of your internet speed slowing down.
The biggest factor here is your own internet connection, but choosing the right VPN service is also a major factor.
Less server flexibility.
Say you have two favorite VPN locations that you switch between regularly. With your VPN client, it's an easy job done in just a couple of clicks, but a VPN router typically isn't as flexible – you'll be limited to whatever server you used in the configuration, and you'd have to change it via the router interface if you want something different.
Some routers allow setting up more than just one server, but the ease of use isn't on the same level as VPN apps – not yet, at least.
As you can see, there are both pros and cons to getting a VPN router. But there are a few situations where the strong points heavily outweigh the weak ones.
When to Consider a VPN Router
As we mentioned earlier, VPN routers can be a great idea if you want online privacy and security at a greater scale.
Let's take a look at our imaginary friend, Johnny. Johnny has a hip café that attracts hundreds of eager customers every day with its awesome drinks and super fast wi-fi.
Now, Johnny doesn't want to worry about hackers or identity thieves on the network, and wants to make sure his patrons are safe online because that's good for business.
So, Johnny has invested in a VPN router, which hides the sensitive data of all connected users and allows visitors to enjoy a nice coffee or delicious smoothie while surfing away in peace.
Sara, on the other hand, is opening a start-up. A cybersecurity department is way out of her budget right now, so the next best thing for her newborn company is a VPN router that will keep the organization secure online and provide extra privacy.
There are many Johnnies and Saras around the world – and perhaps you're in a very similar situation! If so, you should definitely consider using a VPN router for your social venue or small-scale business environment.
We don't wish to fool anyone – so let's be clear that you may not need the scale and reach of a VPN router. One example is if you mostly use a VPN by yourself, for yourself. The same applies if you're a casual user and only launch your VPN here and there.
It's also worth noting that not all VPN services have the required settings and support for routers. If you're using a basic free VPN, chances are you won't be able to get it running with your router, or worse – you may end up breaking your router and creating a massive headache for yourself.
If you're serious about making the switch to a VPN router (or you simply want the highest-quality VPN service around), we recommend taking a look at leading VPN providers like ExpressVPN and IPVanish. With all their excellent features and great discounts, you'll quickly realize why they're considered premium VPNs – but you'll hardly notice the price.
How to Get a VPN Router
Typically, you have two choices when it comes to VPN routers – either getting a device with built-in VPN support, or upgrading your own if it allows that (also known as "flashing"). This results in three main VPN router types – VPN-compatible routers, pre-configured routers, and manually flashed routers.
Here's an overview of each type, as well as some useful pointers:
1. VPN-compatible routers
When: Buying a better router and looking to save some money at the cost of setup time.
Why: You want a VPN router without going through flashing or paying extra for configuration.
What to look for: Intuitive firmware, native OpenVPN support.
If you've decided that it's time for a new router but haven't made up your mind yet, getting a device with integrated VPN support is the move to make. With the firmware already allowing VPN connections, the setup process is reduced to simply typing in the VPN server and your login info.
While most VPN-ready routers have everything you need to work smoothly together with your VPN service, it's a good idea to double-check if they support the OpenVPN protocol, as it's currently considered the most secure option.
We recommend choosing OpenVPN whenever you use a VPN service, no matter the platform – to find out why, take a look at our VPN protocol comparison.
2. Pre-configured VPN routers
When: Buying a better router and looking for the fastest setup with minimal effort – even if it costs extra.
Why: You want to a VPN-ready router out of the box and you don't mind paying more for configuration.
What to look for: Reputable vendors.
Pre-configured, or "pre-flashed" routers are your most expensive option for a VPN router, but you get a fully operational device for the price you pay.
The main bonus of this type is ease of use – since you can also choose which VPN service you want the router to be prepared for, you virtually don't have to do anything but choose your preferred server, as far as setup goes.
With that said, there are several pretty big drawbacks to pre-flashed VPN routers.
Aside from how expensive they are, it's also hard to find variety in trusted providers. Vendors like Flashrouters have been offering a reliable service through the years, but beware of scam sites.
Another disadvantage is the fact that, most of the time, online is the only way you can get a pre-configured VPN router – depending on where you live, it may not be a cost-effective option between shipping costs and difficult returns if something's wrong with your device.
3. Manually flashed VPN routers
When: Upgrading your current router and looking for the cheapest way to improve it.
Why: You want a VPN router, you aren't interested in buying a new device, and you're confident in your abilities to perform the setup.
What to look for: Helpful guides, information on your router and whether it supports advanced firmware.
Flashing your router is a challenging task that requires some research, but it's not as hard or risky as it seems. If you'd rather make your router VPN-ready by yourself without having to spend a small fortune on a new one, this is the way to go.
As mentioned, "flashing" is short for installing advanced firmware on your router. The two most popular kinds are DD-WRT and Tomato – both have their strong sides.
Here's a summary of what you need to know about these two pieces of firmware. DD-WRT is the more versatile option, offering support for 80+ router brands – including entry-level models of vendors like TP-Link, Tenda, and D-Link.
Tomato is compatible with a much more limited selection of routers, but usually works better with OpenVPN, has unique features (like allowing two VPN servers to run simultaneously) and is widely considered to have a cleaner interface than DD-WRT.
Ultimately, your choice of firmware will depend on the router you have. Whatever the case, our advice is to make sure your router is suitable for the task by checking the DD-WRT database and/or lists of routers that support Tomato BEFORE you start the flashing process. Otherwise, there's a big risk of messing up your router beyond repair.
The Ideal VPN Services for Your VPN Router
Now that you're familiar with the types of VPN routers available, it's time to talk about the VPN services they are paired with.
Choosing the right VPN provider is just as important as picking a suitable router. Making the right choice guarantees that you'll be able to add VPN protection without much of a hassle, but that won't mean much if the VPN itself has its share of problems.
How do you avoid this issue? By trusting the right VPN service for the job.
No matter the platform, there are a few criteria you want your VPN to meet. Speed, reliable servers, and guaranteed privacy are all equally important.
Since all your traffic will be going through the VPN+router combination, you need to make sure the connection is fast enough to cover your day-to-day activity online – from casual surfing to HD streaming, downloading, and gaming.
If you have experience with bypassing geoblocks, you also know how important server variety is, so you'll want a good choice of VPN locations worldwide for access to your favorite streams and services.
Lastly, your VPN must operate under a no-logging policy if you care about your privacy online (hint: you should). Performance is crucial, but so is security – which is why many opt for a VPN in the first place.
There are also router-specific VPN features you'll find useful. These range from in-depth setup tutorials to help you out, to custom firmware you can download from the provider's website and use to flash your router, making it VPN-ready.
Keep in mind that not all VPN services are ideal to pair with a router. If you're in need of suggestions, check out the following providers:
ExpressVPNis a leading provider, offering the fastest servers on the market. It's also privacy-friendly, keeping zero sensitive user logs, and unblocks everything from Netflix USA to your local geoblocked news channel.
One unique benefit to this service is the array of custom VPN apps for several Asus, Linksys, and Netgear routers, which makes the setup even easier if you have the right model.
Even if you don't, this lightning-fast VPN can be configured manually on a variety of router brands, with the assistance of useful step-by-step tutorials.
ExpressVPN offers pre-flashed routers, as well as detailed setup guidesfor all supported routers, including DD-WRT and Tomato firmwares. To learn more about ExpressVPN and its reputation, check out its user reviews on our site.
In case anything goes wrong, ExpressVPN comes with a 30-day money-back guarantee and a no-questions-asked policy.
ExpressVPN can unblock:
Netflix, Hulu, HBO, Amazon Prime Video, Showtime, Sling TV, DAZN, and BBC iPlayer.
Supports torrenting:
Yes, all servers support P2P activity.
ExpressVPN works on these devices:
Windows, macOS, Android, iOS, Android TV, Linux, Chrome, and Firefox. It also offers an app for use with certain routers.
SaferVPN is a decent alternative with pre-flashed routers and manual guidesfor 20 different router firmwares. If it's is your first time hearing about this solid VPN, you can find out more from the user reviews.
SaferVPN can unblock:
HBO, Amazon Prime Video, Showtime, Sling TV, BBC iPlayer, and others.
Supports torrenting:
SaferVPN works on these devices:
Windows, macOS, Android, iOS, Linux, Chrome, Firefox, and routers.
Bottom Line
Installing a VPN on your router doesn't have to be a difficult task, even if you go for a manual setup. With the right provider, you'll have all the guidance you'll need to be successful.
Now you know the benefits and details of VPN routers, as well as the best VPN services to get the job done. To get the best prices as well, be sure to check our deals and coupons page. Good luck!
Further Reading:
How to Make a VPN Undetectable and Bypass VPN Blocks
VPN Leak Check – How to Diagnose and Repair DNS Leaks
To summarize, the best VPNs for a VPN router in 2022 are...
Privacy Alert!
Your data is exposed to the websites you visit!
The information above can be used to track you, target you for ads, and monitor what you do online.
VPNs can help you hide this information from websites so that you are protected at all times. We recommend ExpressVPN — the #1 VPN out of over 350 providers we've tested. It has military-grade encryption and privacy features that will ensure your digital security, plus — it's currently offering 49% off.